March 2018 Newsletter
March, Mothers & Merriment
Mark Twain said: "The two most important days in your life are the day you are born and the day you find out why."
Six years ago, one of my biggest dreams became a reality – I started my own business. Little did I know when I first had this vision at just 21 years old – still studying and finding my feet while enjoying being young & carefree – that me, the girl from South Africa, would end up owning a business in beautiful South Molton Street, Mayfair in the heart of London. Better to dream big than too small as they say, and for me thankfully, it became a wonderful reality.
I had lots of exciting ideas about how, when and where, but only when I 'found' Permanent Make Up, did all those dreams fit into more concrete plans. I was blessed along the way to learn from and work with some remarkable people picking up skills and tips, storing all this information in my creative brain, and letting it grow and take shape. I would for years be toying with ideas until I took a leap of faith and opened my business in 2012 specialising in Permanent Make Up.
If you can do what you do best and be happy, you're further along in life than most people.

- Leonardo DiCaprio
One thing was clear, and it's something that I have always been adamant about, is building client relationships and helping others. Looking back now, everything really grew from that. I had seen and experienced client care that should really not be part of what we do and was determined to make sure I created a "non-rushed", safe environment for my clients to feel listened to and looked after. Permanent Make Up is a commitment and is a treatment that requires follow-ups, so getting to know my clients is very important to me. I cannot say enough how wonderful it is for me to see clients, some who have been coming to me for years, that I really know and understand. I am sure along my 16-year career I had it wrong on some occasions but hand-on-my-heart, as with most people in my life, I give my all, always. That's a promise I made to myself and one I am proud to say defines me and my work.
In the midst of movement and chaos, keep stillness inside of you

- Deepak Chopra
When my second dream coincided with me opening a business, life became even more interesting… Being pregnant and later having my twin girls while my business itself was only in its infancy brought a whole new meaning to the word 'multi-tasking'. Needless to say, some days were harder than others and tested my cannot-fail attitude towards my new little family and my new business. But, as a woman, I know how determined we are, how we find strength and how we are capable of anything if we put our minds to it. I hope that my girls will find inspiration from me one day knowing that we can do, and excel at anything we want to. If it's for love, whether the love for your family or having a passion that you feel you can make a difference in this world, if it drives you to do good, we are all capable to go to the ends of the earth to make it a reality.
With 'Women Power' in mind, International Women's Day (March 8th) is a global day celebrating the social, economic and cultural achievements of women. The day also marks a call to action for accelerating gender parity and has been taking place every year for well over a century.
There's a number of events happening in London to celebrate the day including:
Breakfast Morning

at WeWork in Holborn. Join the free event and enjoy some early morning inspiration with help from four women leading the way in their industries. The panel will see Suitcase Magazine founder Serena Guen, author and broadcaster Emma Gannon, and founders of Stories Behind Things, Ella Denton and Jemma Finch talking about empowerment, building your own community and the politics of being a woman.
In Trafalgar Square there will be

live entertainment and music

from some of the biggest artists. There will be speeches from people involved in women's rights and peaceful and uplifting marches.
On Saturday 3rd March at Browns in Covent Garden

'The Phenomenal Woman Tea Party'

is taking place for the third year running. It's all about celebrating women from every walk of life and a chance to hear from inspirational women.
Mother's Day Gifts and Ideas
Mother's Day is a day to celebrate the women in our lives. They gave us life, they gave us love, they gave their all, and on this special day we like to give a little bit back to them so they feel extra loved and appreciated! So, don't be caught unprepared this Mother's Day (11th March), and instead take a look at our list of unique gifts and activities you can do to show the love this Mother's Day.
Eyebrows Envy, A Gift for Mother's Day
To say well done for doing such a fantastic (sometimes thankless) job we wanted to offer all Mums £100 off any new Permanent Make Up Treatment with Geraldine. Please see the voucher below for more details.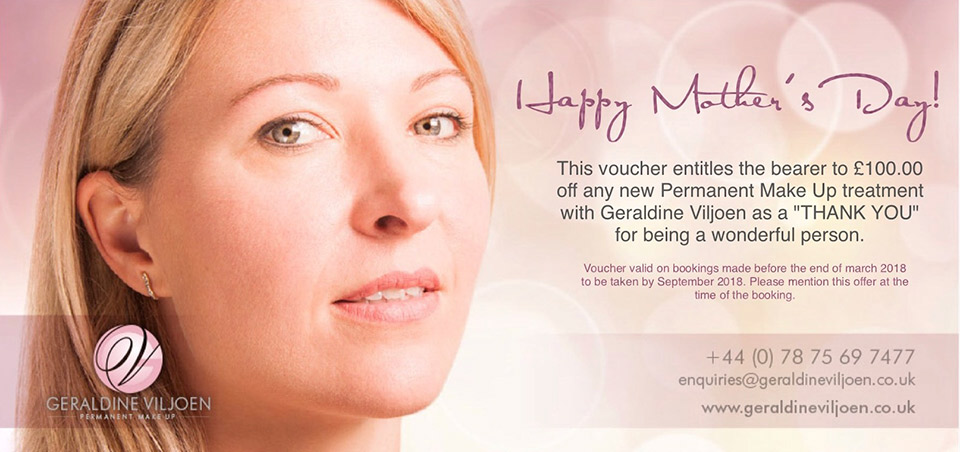 If it's good enough for Royalty…
London's most loved store, Fortnum & Mason, have pulled out all the stops for Mother's Day. They've unveiled a special hamper that's filled to the brim with aromatic teas, biscuits, preserves and much more for truly indulgent treat. Priced at £100.

Get away from it all….
Who doesn't love a spa day!? Treat your Mum to a gift voucher to the luxury Mayfair Athenaeum Hotel . Enjoy their REN bespoke treatments, manicures & pedicures, and cedar wood hot tub – perfect for unwinding after a day of shopping.

Build a Bouquet
Don't just buy a bunch of flowers, instead take your Mum along to a fun-filled two-hour flower arranging class, under the guidance of Gail from Gail Smith Flowers. It's taking place at the beautiful Patron Bar a Vin near Kentish Town tube station. You'll be creating amazing memories and leaving with a beautiful floral arrangement.
Candle Delight
The incredible team at Wick and Tallow can create a completely bespoke candle with a unique smell and packaging design just for your Mum!
International Day of Happiness
March is such a busy month! So many celebrations to look forward to, we really need to add reminders to our diaries so we don't miss anything!
Another one to note down is International Day of Happiness (known as Happiness Day) which is celebrated around the world on the 20th of March. Initially thought up by United Nations adviser Jayme Illien on June 28, 2012, the day has become a celebration recognising the importance of happiness in the lives of people across the world. In 2015 the UN launched 17 Sustainable Development Goals that seek to end poverty, reduce inequality, and protect our planet – three key aspects that lead to well-being and happiness.
So spend March 20th doing what makes you and others happy – smile, share, eat healthily, exercise, be grateful, give back, think positively, spend some time with friends and family, spend some time alone, be mindful, dream, listen to music, say thank you and mean it, compete and be charitable.
Makeup Trends from LFW 2018

Whilst the fashion clothes tend to be the sole focus on the runway at Fashion Week's, the makeup that's applied on the models also plays a huge role in what the beauty trends will be for this summer.
So far, we've seen that the natural glowy look has been eschewed in favour of striking make up with splashes of colour and sparkle. The eyes have been a major player the sole focus with Prada using vibrant colours of eyeshadow for a high-impact look that's sure to capture everyone's attention!
It wasn't just the eyes taking centre stage. On the Annakiki runway there were show-stopping lip colours including bright lavender, canary yellow and bright citrine green.
It's time to brighten up ladies and be bold & beautiful!
Eyes that Sparkle
Our own eyeliner treatments provide a great base for a natural look – you can always copy the LFW looks over the top of the Permanent Make Up. An eyelash enhancement or eyeliner treatment is a wonderful addition for clients with fair or few lashes. Gently implanting pigment between the lash base and building that up for a thicker, top liner gives the illusion of fuller lashes and really opens up the eyes.
Below are a few examples of some of our clients who had their lash line defined with either our Eyelash Enhancement or Defined Eyeliner treatment. A thorough Consultation is performed prior to your treatment to ensure we know exactly what end result you are hoping to achieve.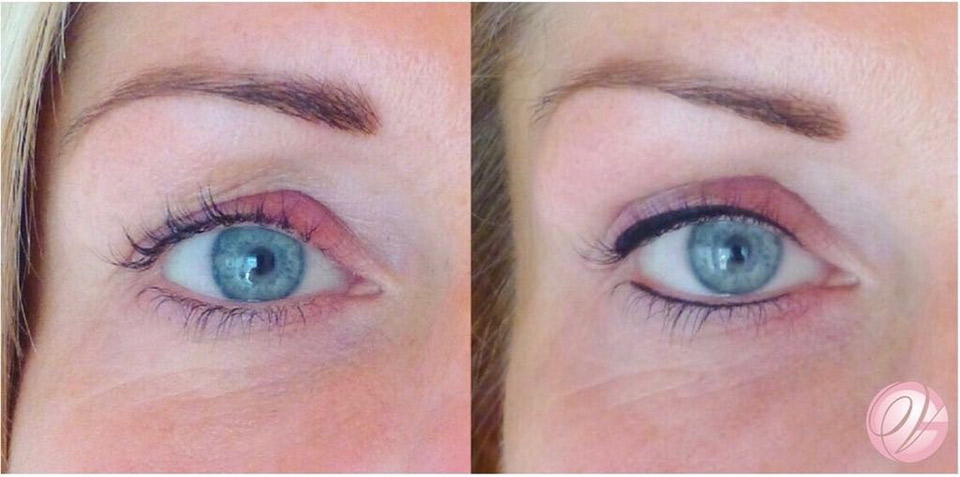 For more information please ring us on 0203 664 8985 / 07875697477 or email us at  enquiries@geraldineviljoen.co.uk
May your Women Power shine brightly this month of March!
Until next time,
Geraldine Xx