December 2017 Newsletter
It's the most wonderful time of the year!
As the countdown begins towards Christmas, I feel proud to reflect on the goals we set for ourselves this year. Our focus for 2017 was to help others 'Embrace their Uniqueness' so that we can all be a little more content with who we are. We are so quick to criticise ourselves, thinking we don't live up to the images the media portrays of the perfect partner, parent, manager, employee…the perfect anything – most of us don't have 'the perfect' body – all of us are stressed and overworked at some point and the constant feeling of guilt being a working parent is exhausting! The list goes on.
I am a firm believer that living in the past is never a good solution but when it comes to seeing how far we have come, we need to allow ourselves to look back and reflect, in order to remember our influence on our most precious ones as well as the world around us so that we can either continue our journey in the same direction or change course. I am putting this into practice myself this month as I have forgotten, with my crazy home/work lifestyle just what an amazing year, (with and without its challenges), it has been.
When it comes to my work, helping others express and highlight their uniqueness is wonderful. Consultation is the key to understanding what my clients want to achieve as an end result. Then allowing my creative side to take over and design the perfect eyebrows to frame the individuals face, or an eyeliner that gives the illusion of a fuller lash base adding sparkle to the eyes and to restore shape and symmetry to lips where colour or natural fullness has been lost. I truly have the best job in the world!
This uniqueness of each individual is what makes us, us, and why I believe only subtle changes should be done with permanent make up to perfect these individualism's.
Here are a few examples:
A Year in Review: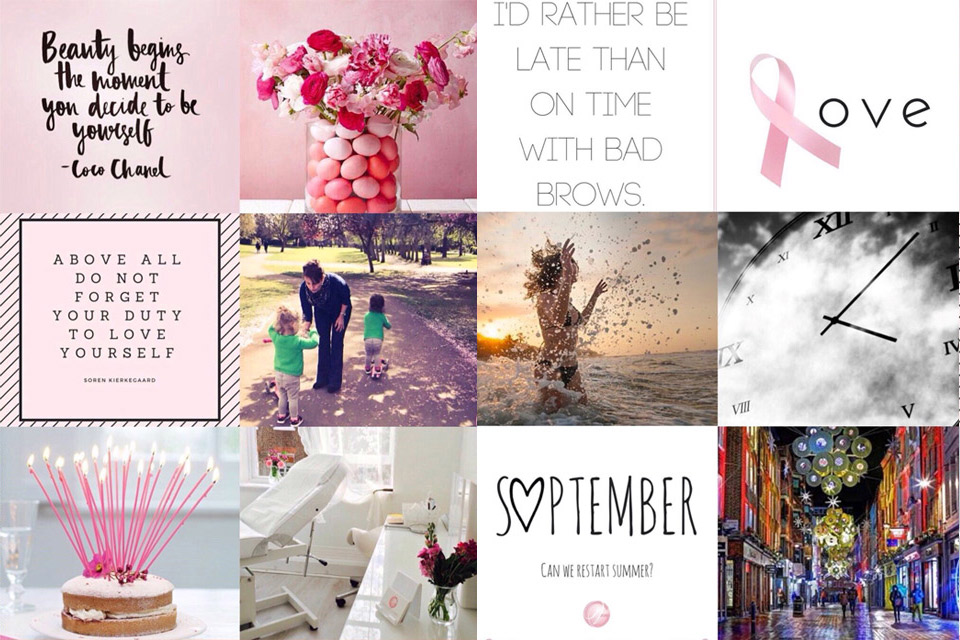 Wow! What a year! Here is a quick recap of the past 11 months leading us into December:
January was where our 'Perfecting Individual Uniqueness' journey started. With a 'New Year, New You' mind-set we focussed on setting realistic promises rather than breaking them before we reach February. The beginning of the year is always the perfect time for new beginnings after all.
February, the month of love! In keeping with our 2017 theme, we wanted to remind everyone of the importance to not just treat others but ourselves too. Self-love and self-care is very important.
March marked my business' 5 year anniversary as well as the start of Spring. How on earth did time go so quickly?! We also focussed on our mothers a.k.a 'angels on earth' as we celebrated Mother's Day.
April, Easter, the month that symbolises new beginnings and what perfect timing as this month is also Stress Awareness month. Here we discussed and looked at the impact of stress on our lives and easy day-to-day methods to de-stress and relax.
May was a month of total bliss as I had my mum visiting me for 2 weeks. Too much cake, fun and laughs that resulted in the perfect 'recharge' to refocus and continue on my journey both professionally and personally.
June, how we love the summer! We discussed how beneficial permanent make up is for summer holidays leaving fellow holiday makers with brow- lash- and lip-envy (and confusion as they never see you re-applying you make up while you are on the beach).
July focussed on the importance of a consultation before committing to having a permanent make up treatment. We looked at some of the fears clients may have prior to treatment and how a consultation can help put your mind at ease.
August was for me, as for most working parents, a non-stop work/school-holiday-juggle. Need I say more?! The beauty of having permanent make up means that at least that we don't have to worry to apply or reapply make up when time is of the essence!
September oozes style and new trends. From the 'wavy eyebrow trend' to the amazing London Fashion Show making its appearance again in the Capital, what's not to love in this month! We also focussed on Alopecia Awareness and how permanent make up can be a wonderful help.
October is Breast Cancer Awareness month. We discussed how we, with the help of permanent make up, can help try and ease the journey allowing our clients not to have to worry about their eyebrows or eyelashes thinning by enhancing them with our subtle and natural looking treatments.
November marks the start of the party season with London being transformed into a party hub full of beautiful people. We discussed how our treatments help getting ready for the events and even more importantly, how our treatments are helpful the morning after when most feel less motivated for the company breakfast after the party! 😊
And now it's December… again, WOW! We made it, and we loved every minute of this year! We hope you did too!
Tis the season to be Jolly – and this really did make me smile
Christmas tree at Claridge's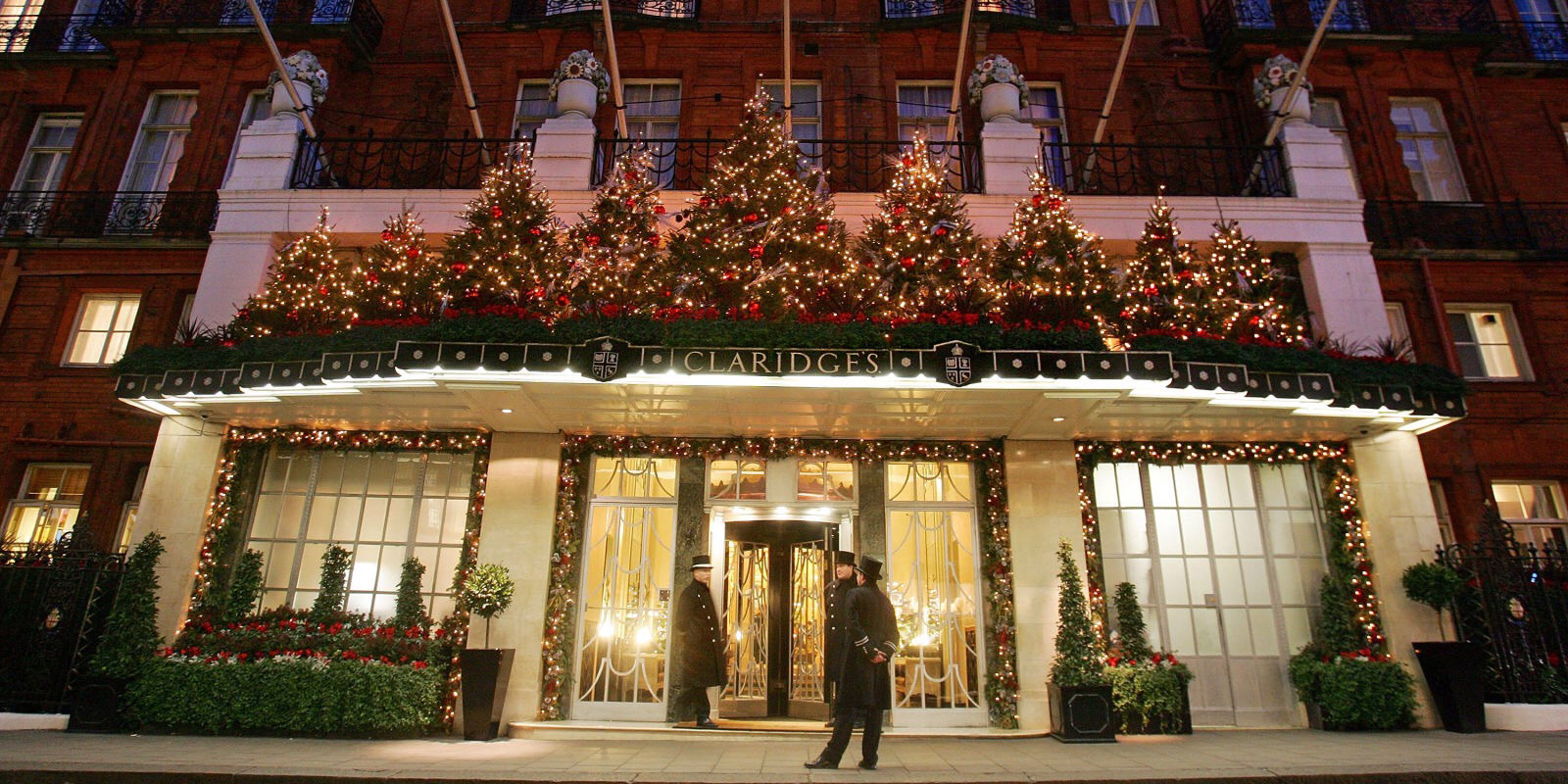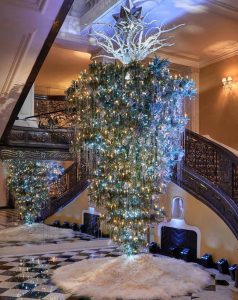 Claridge's were delighted to announce that this year's Claridge's Christmas Tree was designed by Karl Lagerfeld; widely regarded as one of the fashion world's most influential creative forces. The tree was unveiled in Claridge's lobby on Wednesday, 22 November 2017.
Commenting on the collaboration Karl Lagerfeld said, "Christmas trees are the strongest 'souvenir' of my happy childhood.
The Claridge's Christmas Tree has long been a seasonal landmark and symbolises the start of the festive season in the capital, drawing visitors and Londoners alike to admire its design. This is the eighth year that Claridge's has invited a creative visionary to reinterpret the tree in their own distinctive style. Click here for more info >
The Berkeley Rooftop Cinema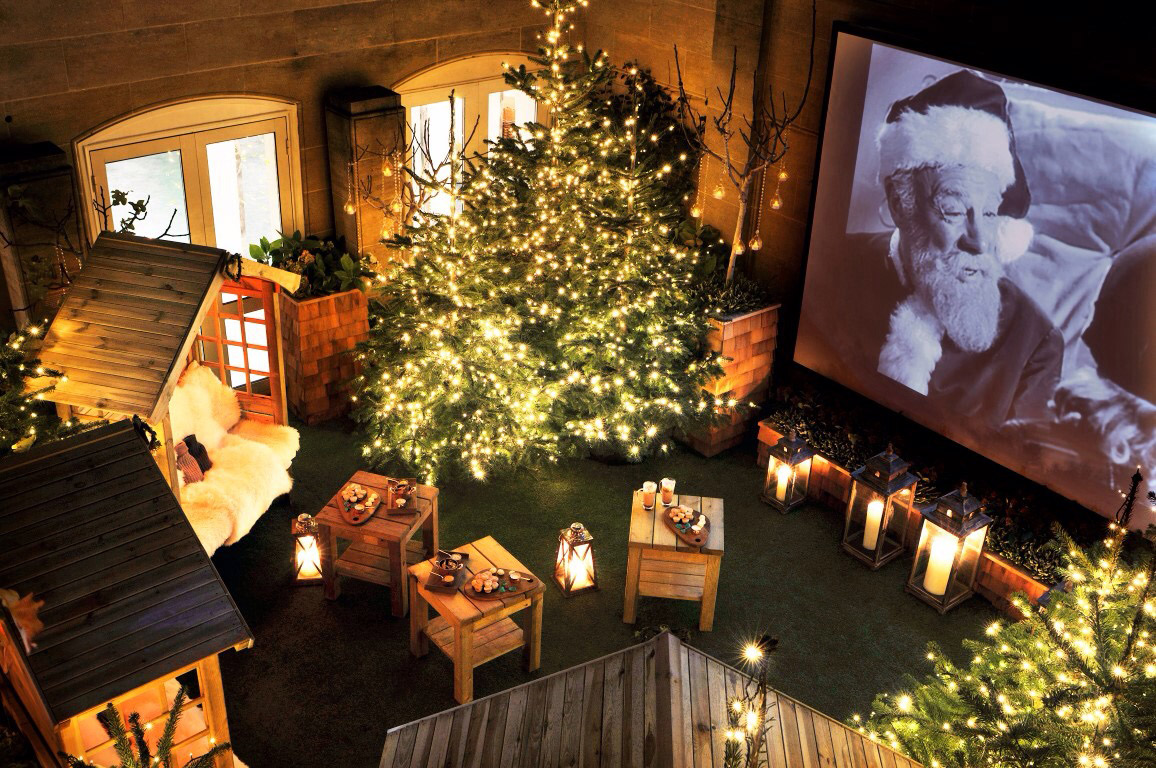 High above Knightsbridge and Belgravia, overlooking the twinkling lights of the city below, The Berkeley's magical rooftop winter cinema re-opened last week on 1 December.
Hotel guests and Londoners alike are invited to book in for daily screenings during December of 'Miracle on 34th Street' or 'Elf', on the big open-air screen. Click here for more info >
Skate at Somerset House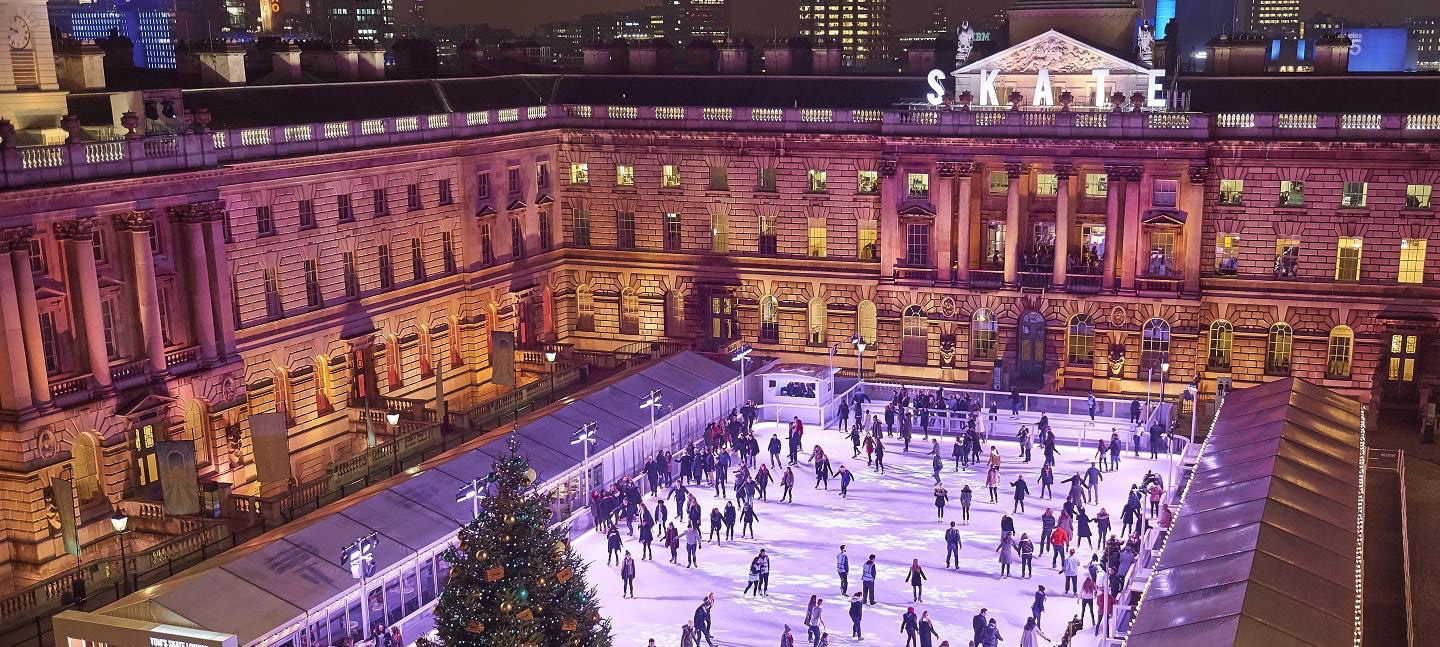 Enjoy the perfect winter day out at Somerset House. Skate day or night with family and friends on London's most beautiful ice rink. New for 2017 are Skate Lates, a specially curated programme of music nights throughout the season – the perfect start to your weekend. Treat yourself at Fortnum's Lodge with one of Their Skate Extras – all designed for two to share – or watch the action rink-side from the Skate Lounge. The West Wing will once again transform into Fortnum's Christmas Arcade. Click here for more info >
Hush Mayfair
Hush in the heart of Mayfair have created the Fairytale of New York in their courtyard in partnership with The Pogues Irish Whiskey. The courtyard will be decorated with Manhattan snow globes, monochrome baubles, a snow covered carpet, as well as a 9 foot Statue of Liberty. The menu will be given a New York twist too, with dishes such as copper pot mac n cheese, homemade New York cheesecake and Lobster Delmonico while all drinks will feature The Pogues' Irish Whiskey. Festive film screenings too haven't escaped the New York touch, with films such as Breakfast at Tiffany's, Miracle on 34th Street and Elf bringing New York festive cheer to London. Click here for more info >
From myself and Cate, we wish you all a cosy and loving Christmas Day filled with happy thoughts and time to make joyous memories with the people you love the most. May 2018 bring you everything you ever wish for and may we all have a happy, healthy and blessed New Year.
Until we see you again, God Bless and Merry Christmas
Much Love,
Geraldine Xx