February 2017 Newsletter
Love is in the air
Wow, it's February already! January has been an exciting month full of new ideas and plans for the year ahead and for the future of my Permanent Make Up business. What an amazing feeling to know my business will mark it's 5 year anniversary in March, and that I will also be celebrating my 1 year anniversary of being at South Molton Street full-time. I think cake will definitely be in order!
With Valentine's Day falling in February, the month of love is upon us! We all enjoy spoiling our loved ones but naturally forget the importance of treating ourselves too. Whether it's a pamper session, a night out with close friends, reading your favourite book or going to the cinema, it's vital for our wellbeing to make time to do the things you [Please use the same pink as used elsewhere on the blog] love.
Being a mother and also running my Permanent Make Up clinic means I lead a very busy lifestyle but let's make a pledge to make time for ourselves this month too!
Let's work towards exploring our own uniqueness
With our New Year's theme 'Beauty Begins the Moment you Decide to be Yourself' in mind, I spent a wonderful day at the House of Colour with my husband as our Christmas gift to each other.
The House of Colour offers a range of services around finding your perfect colours and creating your own personal style that will suit you.
We attended a workshop style day with the fabulous colour analysis expert Michelle Marks who helped us find the perfect colours that suit us best. She looks for colours that radiate confidence and make you look gorgeously vibrant and healthy. Or as Michelle would say, 'it looks like you've been on holiday', and who wouldn't want that? You then work on finding a whole spectrum – a season of colours that naturally harmonise with your unique skin tone, eye colour and hair colour.
I left feeling invigorated and thinking "Why hadn't I done this before?" I personally think it should be compulsory for all women. Shopping trips are going to be more enjoyable and definitely less stressful knowing what colours compliment me, and best of all, with my colour pallet to hand, any shopping experience is bound to be fail-proof.
It's amazing how different colours enhance your skin tone in ways most people can't imagine. Which is really similar to Permanent Make Up – it's so important to have a consultation with a good Permanent Make Up practitioner, who can match your skin tone perfectly. The day really reminded me of that and why I love my job. It was great to be on the other end, understanding everything from a client's perspective again.
Why not treat yourself to a new treatment? Whether it's to help reduce your get ready time in the morning or enhancing your natural beauty, if you've been thinking about it do contact me for a consultation.
What I'm loving this month:
But I'm not forgetting our loved ones either, and have found some lovely things to do in London this month!
Did you know you can hire the rooftop at The Berkeley Health Club & Spa exclusively! Just one cabin will be available for you to watch a rooftop movie of your choice – it's £280 per couple including a bottle of Laurent Perrier Rosé champagne, mulled wine and a selection of luxury winter canapés. A very indulgent treat indeed!
I also love the sound of a romantic lunch or dinner on London Shell Co's canal boat. They are running Champagne Cruises aboard their boat with a champagne reception before a five-course meal as you glide along the Regent's Canal to Camden Town and back. It sounds quite idyllic!
The Town Hall Hotel is doing a special evening dedicated to 'The Grand Budapest Hotel'. There will be an arrival cocktail in the lobby and a three course dinner in the Grand Hall before finishing your night with a screening of Wes Anderson's Grand Budapest Hotel their magnificent Council Chamber.
I'm going to be spending Valentine's Day with my husband and girls in Wales this year. We'll be on a beautiful farm with a South African twist! Surrounded by acres of lush green fields and friendly farm animals, it's going to be a wonderful break from the hustle and bustle of London.
The awards season is upon us!
With the awards season coming up I'm looking forward to seeing all the different make up looks and the stunning dresses, The Oscars is especially good for that. Did you see the looks from the Golden Globes?
I thought Emma Stone looked incredible and her Valentino gown was just perfect. I think she is the epitome of perfecting the natural make up look.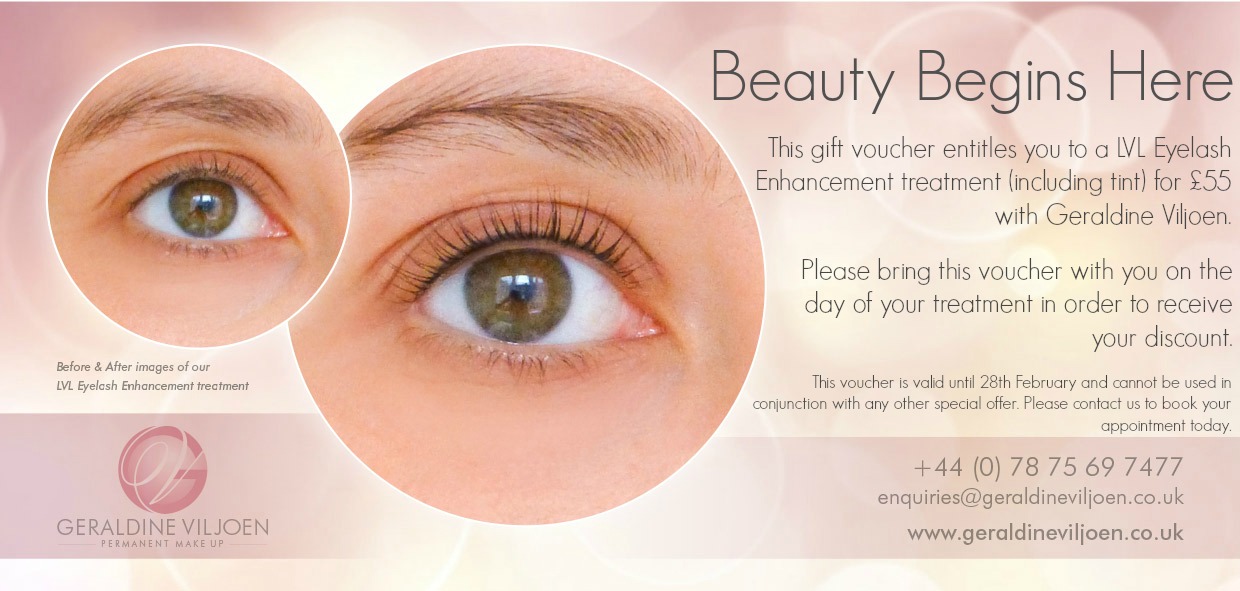 Permanent Make Up is definitely a fantastic way to enhance your beautiful features. For February try our newest Eyelash Enhancement treatment called LVL for just £55 including a tint.
Whether it's for date night or to give you more confidence day-to-day, why not try the treatment this month!
Please ring us on 07875 697477 / 07503 004932 or alternatively contact us via email on enquiries@geraldineviljoen.co.uk
Much love,
Geraldine xx