January 2017 Newsletter
Beauty Begins the Moment you Decide to be Yourself
Happy New Year everyone! I hope your Christmas was as lovely as mine. I was lucky enough to spend an idyllic week in a snug little cottage in the middle of the country with my husband and gorgeous twin girls. There was barely any WIFI which I took as blessing in disguise to spend much needed quality time with my beautiful little family. After looking back at a successful 2016, we toasted the New Year with a glass of champagne eagerly awaiting what 2017 will have in store for us all!
New Year New You – isn't that how the saying goes? But how quickly do so many of us break our New Year's resolutions? The question is: why do we do this to ourselves every year! January is THE perfect time for new beginnings, hopes and wishes for the year ahead so it's very important to set achievable milestones and remember to feel good about it too. So, instead of breaking another unrealistic promise we make to ourselves, why don't we focus on perfecting our own uniqueness?
Natural Beauty. Perfected.
What I love most about my job are all the lovely people I get meet from all over the world. What a privilege to be trusted into their lives. To be able to get to know them, their stories, their families and how I and the wonderful effects of Permanent Make Up can help them. To me, the initial meeting is the perfect opportunity to learn more about the individual – which includes the persons' likes and dislikes, their own personal style and make up habits, whether they prefer a natural or more defined look (and in many cases, what the word 'natural' means to them as it can be very different for everyone!). This is so that I, as their preferred technician, can create the perfect treatment plan that is tailored to them individually.
I love creating and I love showing my clients how we can perfect their natural beauty with a few clever alterations and tweaks to help them find the perfect eyebrow shape that will suit them best; which eyeliner colour will enhance their eyes or how to perfect unevenness in their lips to make them look fuller but still natural enough not to feel 'made-up' the whole day. Our Permanent Make Up treatments are perfect to reduce your make up application time or give you stress-free mornings when you feel you cannot face the world (even if it means just opening your front door to the delivery guy) without having applied your eyebrows, eyeliner or lippy yet!
Trends for 2017 that we're loving
Whilst clean skin and wash-and-go hair were present across the board during the spring/summer 2017 shows, the beauty trends that did make their mark were clean and bold. I loved the flashes of colour, including the bold lip in many of the shows. For eyeliner, make up artists gravitated toward shades of black and grey (as we all do), with here and there flashes of navy and brown and there is surely only one way this spring to wear it and that is smudgy and imperfect.
The "no make up" look isn't exactly new, but it's definitely having its moment all over again. With Kim Kardashian wearing no make up at all on the Balenciaga front row and Alicia Keys continuing her decision to scrap cosmetics altogether, the bare-faced look was on full display both on and off the catwalk.
Permanent Make Up is definitely a fantastic way to enhance your beautiful features. Not only providing a natural yet defined look, it can also have a great impact on your self-esteem. Add our newest Eyelash Enhancement treatment called LVL, and you will be ready to face 2017 with renewed confidence!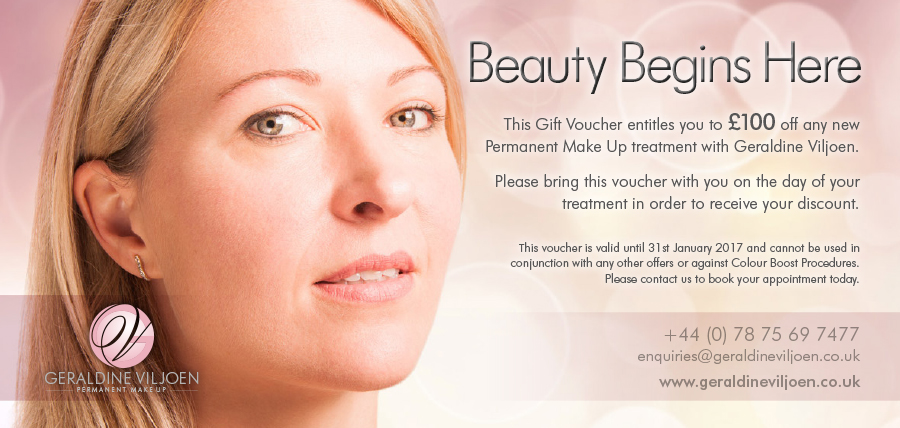 If you have been thinking of having Permanent Make Up for a while, then to help you perfect your uniqueness for 2017 I'm offering £100 off any new permanent make up treatments booked in January.
Please ring us on 07875 697477 / 07503 004932 or alternatively contact us via email on enquiries@geraldineviljoen.co.uk
Wishing you all an unforgettably special 2017!
Much love,
Geraldine xx