June 2016 Newsletter
Hello June! Welcome Summer…
We are officially half way through the year, yay! For me June is the best month by far. Everyone seems to embrace summer dresses despite our unpredictable English weather, a feel-good spirit fills the London air as people eagerly await their annual summer holiday and it is also the month that my beautiful twin girls were born!
As my husband and I prepared for their 2nd birthday, like any new(-ish) mum it amazes me how quickly they are growing up. Every day they are learning something new and embracing their own individual personalities. 

Spending quality time with them brings back great memories of my own childhood and the wonderful years I spent in my hometown of sunny South Africa. Even though I am now all grown up, I do still miss spending time with my mum who still lives in Pretoria. Being so far away from her has really opened my eyes to how lucky some of us are to have someone special to rely on every day. I for one am very grateful for my loving husband and my girls being such a solid source of support and companionship.
At work I also feel blessed to build such strong relationships with my clients and I am lucky that they in turn refer me to their friends and family. One mother and daughter duo which I have had the pleasure of treating for several years now, are Caroline and her mum Georgette (please see below).
Please do read more about Caroline and Georgette's story in our 'Portfolio Pieces' section.
I met Caroline a few years ago when she came to have eyeliner, eyebrow and lip treatments done. After showing her mother the results, Georgette (who I should point out is in her seventies!) decided to first have an eyeliner treatment, followed by eyebrows.

What I love about treating both of them, is their wonderful open-minded approach to life; it doesn't matter what age you are, every one of us deserves to feel beautiful and confident. I couldn't agree more! They remind me of the incredible bond a mother and daughter can have and I hope I have the same with my girls when they are much older. I am a big supporter of women such as them, who continue to embrace fashion and make up no matter what their age and who do so with such grace and elegance.
Here are a few of my personal inspirations:
As a way to celebrate the wonderful people who make our lives better every day, I would like to offer a Special Gift Voucher to treat that special someone in your life. Whether that person is your loving mum, doting husband, grandmother, auntie, friend, colleague or nanny, it's time to celebrate their kindness and say thank you for all that they do! This voucher is valid from now until July 31st 2016. Simply print off the voucher below or produce it on your phone or tablet on arrival.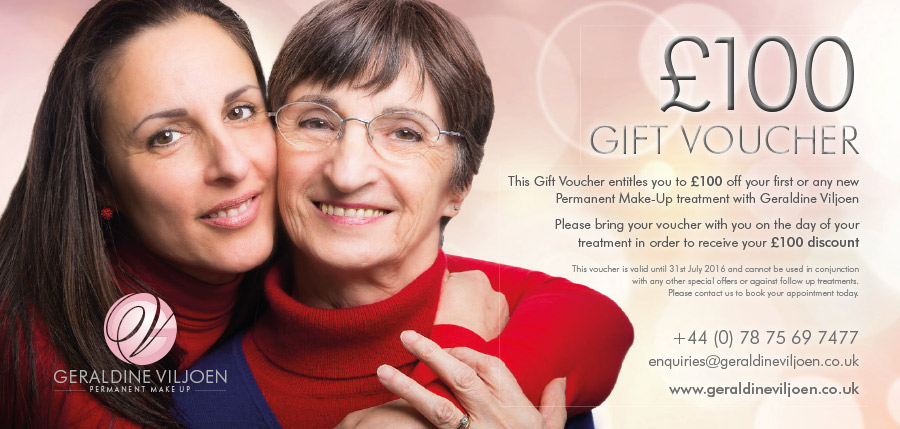 June is also the perfect time of year for the preparation of that all-important family holiday. I don't know about you, but planning the perfect getaway can be a full time job in itself and we are all guilty of spending too much time worrying if we've packed enough bikinis, and sometimes we forget about the most important things, like arming ourselves properly against the dangerous damage of the sun.

The fabulous Joan Collins has always been an advocate for staying safe in the sun and after a recent television interview, admitted that she has kept herself away from harmful rays since she was 20 years old!
Now, I'm not trying to suggest to pitch up your umbrella and stay in the shade all day, but if you have recently had a Permanent Make Up treatment or are planning one before your holiday, then please read my advice of what to do and what to avoid when having fun in the sun.
GERALDINE'S DO's & DON'Ts
• Wear sun screen on the healed treated area or protect eyebrows and eyes with big glasses or a hat. Lip balms with an added SPF are recommended following lip procedures
• Book your treatment and retouch so that you allow enough time for the area to heal properly before you go away. You should avoid swimming, saunas and steam rooms. After the initial week, you can go back to your normal routine
• Avoid using exfoliators or creams with exfoliating action on the treated areas as this will make the areas fade quicker
• Avoid applying self tan lotion over eyebrows as this can sometimes stain the eyebrow hair and change the colour of it.
Love
Geraldine Xx