May 2016 Newsletter
Dear Lovely Readers,
Welcome to my brand new website & my first blog of 2016…!!!!  It's great to be back online and I am so excited about what the year has to bring 🙂
I can't quite believe it's May already, I have been such a busy bee looking after my twin girls, working on the launch of my new website and the opening of my brand new Mayfair clinic that I almost didn't notice the sun is starting to shine in my favourite city!  This means only one thing, no more puffer coats to hide our pasty legs ladies, it's that time of year again where we rush to Boots for an overhaul of plucking, waxing, tanning to get summer-bikini-ready!
I love everything about summer in the city, the al fresco dining, excuses to enjoy a G&T at 4pm and everyone seems to take much more care about their appearance – it's an exciting time for the beauty industry.
The Met Gala 2016 saw Kim Kardashian defy the 'norm' by dying her eyebrows a blonde to juxtapose her infamous dark locks, and I have to say, I loved it!!
As someone who sees a wide variety of eyebrow shapes and colours on a daily basis, I wouldn't usually recommend such a dramatic contrast but what your natural is isn't always the same as your hair colour or what others perception…
Isn't it amazing how your eyebrows can create such a statement! Jack Black sums it up so well…
---
"You must never underestimate the power of the eyebrow."

- Jack Black
---
This year has also seen Nineties fashion dominate magazines for spring/summer with retro sportswear, grungy floral dresses and slouchy silhouettes all over the 2016 catwalks. Who doesn't love a throwback and a chance to pull out that stretchy choker? Just make sure you leave the cakey foundation, skinny brows and heavy brown-lined lips at home…
Fashion trends may change, however I am always telling my permanent make-up clients that their make-up must suit their natural features which means that whatever season it is or colour you are wearing, your base look will always be natural and flawless.
The thin eyebrow shape certainly suits Pamela (above), but a consultation is a great opportunity to discover what shape is going to suit your facial features best.
I recently supported a client of mine in the London Marathon and it was incredible to see a record-breaking number of people this year pushing themselves through rigorous training to raise thousands for charity (over 36,000 runners).
One charity that is very close to my heart is Cancer Research UK as I treat a lot of clients for areola re-pigmentation and eyebrow reconstruction due to hair loss following surgery and/or chemo therapy.
With more breakthroughs in Cancer happening every year, we really are so close to finding a cure and it was great to read in the news recently that tattoo artists are being urged to start taking courses to detect skin cancer in their patients.
"In the West Country, tattoo artists are being trained to spot the early signs of skin cancer in a revolutionary new scheme. Consultants from Bristol's Southmead Hospital are educating tattoo artists in the region how to spot the warning signs of melanoma on their clients. The scheme has come about following a study in Brazil where tattooists were recruited to a skin cancer awareness campaign. Melanoma is the fifth most common cancer in the UK, and the most prevalent skin cancer in people under 50. There are around 13,000 cases diagnosed each year and it claims 2000 lives a year. "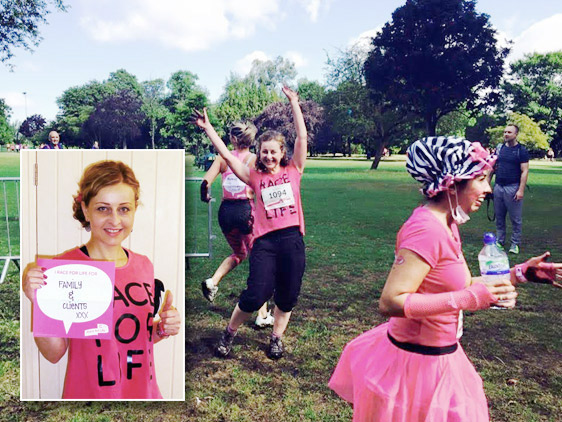 It's fantastic to see that the industry is moving in such a positive direction and I hope that these courses will become more widely available and introduced in to the permanent make-up industry, so that we too can help to prevent this disease as opposed to just helping with recovery.
I am so excited for what June has to bring for my business and what amazing and inspirational clients I will meet…
Please follow me on Twitter and Facebook for up-to-date posts on new treatments and my beauty recommendations.
Until the next time…
Love
Geraldine xx