May 2017 Newsletter
May

in

May

fair…

Easter egg hunts completed: One
Chocolate eggs consumed: A lot more than One
Easter egg calories burnt off: Zero (except when running after the girls on their scooters of course!)
Alcohol units: Who knows…
Days out in the sun: Every day it has made an appearance – I am South African after all!
Number of laughs: Oh hundreds…

I have to be honest with you… I may have forgotten to write this blog if it weren't for my mum catching her flight home – yes, I admit, I have been having far too much fun these past few weeks and I am now starting to feel a little bit like Bridget Jones, minus the giant pants of course!

I may have indulged a little more than usual but I can tell you it was definitely worth it! As I mentioned, my mum has been over in London the last 2 weeks and I kicked off the celebrations by treating her to afternoon tea at the iconic Landmark Hotel for her belated 60th Birthday. We sat in the picturesque winter garden surrounded by palm trees; it was perfect.

As you can imagine my girls were extremely excited to spend time with their 'Ouma' (Grandmother in Afrikaans) and watching the three of them having fun together was such a delight for me. I am a big believer that you don't need to venture far or spend heaps of money to make incredible memories; it is about spending quality time together, doing things you love and seeing the smiles upon their faces. A bonus to having two adorable little girls is that I can live vicariously through them and I think I may have enjoyed painting unicorns more than they did!

I decided to take the full two full weeks off work to spend every day with them but also to recharge my batteries. You may have noticed by now that I am a bit of a workaholic but I have come to realise how important it is that I take time for myself to refocus on my goals and allow my creative juices to start flowing again. I am now bursting with creative ideas ready for my return to Mayfair this week.

Time flies though when you are having fun and what a nice way to start May with the first of two Bank holidays – hurrah ☺! I have decided that this is the perfect way to set a positive precedent for the rest of the month and what better way than having a Spring clean! Today and the first weekend of this month I am going to have a BIG clear out, starting with my make-up. Being a bit OCD, I always make sure that any product I use is well within its expiry date and I am always on the look out for new cleaning hacks that save time and effort, whilst still doing the job well. I thought I would share a few tips I have learnt recently, with you:
Your Brushes

Make sure you clean them at least once every 2 weeks as they can harbour an eye-watering 45,000 different kinds of bacteria. Simply pop them in a jar with some soap and warm water and leave to soak overnight. Rinse them out thoroughly under a tap and leave them to fully dry before re-using; no bugs will survive!

Your Mascara

Our eyes are the windows to our souls and our eyelashes are incredibly important for keeping out the dust, dirt and grit. There is nothing worse than getting an eye infection by using a dry mascara that leaves bits in your eyes so replacing your mascara every 3 months will help lower this risk.

Your Foundations and other oil-based products

These should ideally be applied using a clean brush rather than your fingers, as they often harbour bacteria that can easily spread across your face without you realising it, resulting in nasty spots and infections. The same applies for blushes and powders; it is best to invest in new ones every year.
Personally, the best thing about going through all my make-up is that I will now be skipping my way to the high street. This is not an excuse to go and splurge on fancy make-up; I am simply just replacing items I need. There will be no unnecessary splurging taking place… none at all *eye roll*
My Beauty Shopping List for SS17:
1. La Roche-Posay Toleriane Double Repair Moisturizer UV (Available in most Boots stores)
Healthy skin always starts with a great moisturiser and this one is praised by all the top beauty bloggers. Five years of research has created this prebiotic filled moisturiser promoting a healthy microbiome.
2. Nars Soft Matte Complete Concealer (Available in selected John Lewis stores)
Seen at London Fashion Week, this concealer comes highly recommended in the top beauty magazines and is meant to be NARS's highest coverage concealer to date. It is also available in 16 shades.
3. MAC Extended Play Lash Mascara (Available at MAC stores)
One of the best waterproof mascaras around; it is washable with warm water and supposedly lasts up to 16 hours! Perfect for day or night and those times when it can be difficult to re-apply.
You have probably noticed that eyeliner, an eyebrow pencil and lip liner are nowhere to be seen on my list. Well, I am always going to be bias, of course, but I genuinely believe there aren't any products out there that can match the same long lasting, subtle and fully personalised effects that Permanent Make-Up can.
I am not one to speculate about any treatments they may have had done, but the photographs below of singers, Demi Lovato and Gwen Stefani are a good example of how a small change to the shape and/or height of your eyebrows can make a difference to your overall appearance.
Although it is subtle, thanks to a much thicker eyebrow, I personally think that Demi and Gwen's eyes are more striking in the right hand photographs. Fuller, bolder looking eyebrows continue to be splashed across the glossy magazines and it's a trend that doesn't appear to be disappearing any time soon, however, they do not suit everyone. Just like our bodies, we all have different shapes, so we must 'dress' our eyebrows to compliment in the same way.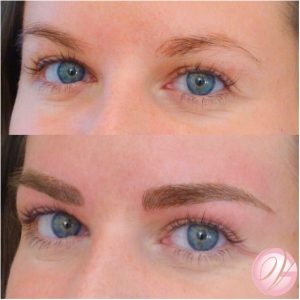 During the consultation process with my clients, I always focus on these key aspects, as well as the effects the results will have on their eyes. It is important to never look at a celebrity and try and copy their look because what might flatter them may not suit you.
Committing to having Permanent Make-Up is a very big decision to make, so please ensure you have a consultation beforehand to fully understand the process of what can and cannot be achieved.
With summer just around the corner and wedding season on the horizon, there is no better time than now to treat yourself or someone you love to a Permanent Make-Up consultation.


If you would like to book a consultation at my Mayfair or Harpenden clinic, or have any questions regarding any of the treatments I provide, then please do not hesitate to get in touch via email on enquiries@geraldineviljoen.co.uk or call us on 0203 664 8985 / 07875697477
I hope to see you at my clinic very soon.
Much love,
Geraldine xx