November 2017 Newsletter
Time flies when you're having fun!
So, it's November… NOVEMBER?! Already?! How did that happen?
Apart from only having a couple of months to complete endless tasks that still needs doing before 2018 makes its brand-new appearance, I am excited and eager to see what November holds in the capital. London always promise to deliver and the last stretch of 2017 is again sure to be a memorable, one-of-a-kind experience not to be missed! There are jam-packed events and parties starting to pop up everywhere, beautiful people all dressed up wandering the streets, festive lights are being turned on soon, and oh, the atmosphere…
I love how magical it is to walk down beautiful, quaint South Molton Street under the high archways of Christmas lights and then being met just around the corner with all the Christmas delights of legendary Oxford and Regent Street! I still have to pinch myself to think that, I, the South African girl from Pretoria, have a clinic in one of the most well-known and adored streets in this beautiful city and right in the heart of busy, bustling London!
This time of year is particularly busy for me leading up to Christmas. With Permanent Make Up becoming a wonderful 'must-have' addition to everyday life it's easy to understand why as soon as you have experienced first-hand what it feels like not to worry about accidently wiping off your 7th attempt at getting your eyebrows to match or an eyeliner or lip make up that stays in tact when you need it most. Confidence is restored knowing that with all the busy nights ahead your eyebrows, eyeliner and lippie will look immaculate while you party the night away. Don't worry, your secret is safe with us, no one will know what you had done, but believe me, everyone would want to know…
One of the main questions I get asked is if additional make up can be applied over the treated areas. The answer is yes! It's important to know and remember that Permanent Make Up procedures are not a treatment that will replace normal make up. Its main purpose is to enhance and perfect your natural features by adding more colour, depth and definition. The result is a natural look that's subtle enough to suit your non-make up days but defined enough to give you the confidence to get up and go should you wish to. For a more accentuated look additional colour with a cosmetic pencil or powder can be added, perfect for when you feel like wearing more make up or if you have a special occasion coming up. Client feedback is wonderful, most feel that it's a great time saver – not just for make up free days but also for going out as there is a perfect template to follow when drawing your own. As you can imagine, having breakfast with colleagues that are feeling worse for wear the morning after the Christmas party will be a delight, you will be one of very few without Panda-eyes around the table.
Below are two of my stunning clients, Olivia and Natalie.
Olivia came to see me a week ago to have her eyebrows redefined. She has a gorgeous natural shape but needed a bit of 'perfecting here and there' to get them just right. She is part of the very talented Harpenden Skin Clinic team and therefore wanted to get her brows ready for their Awards Function coming up in a few weeks' time. I think she looks gorgeous!
Olivia writes: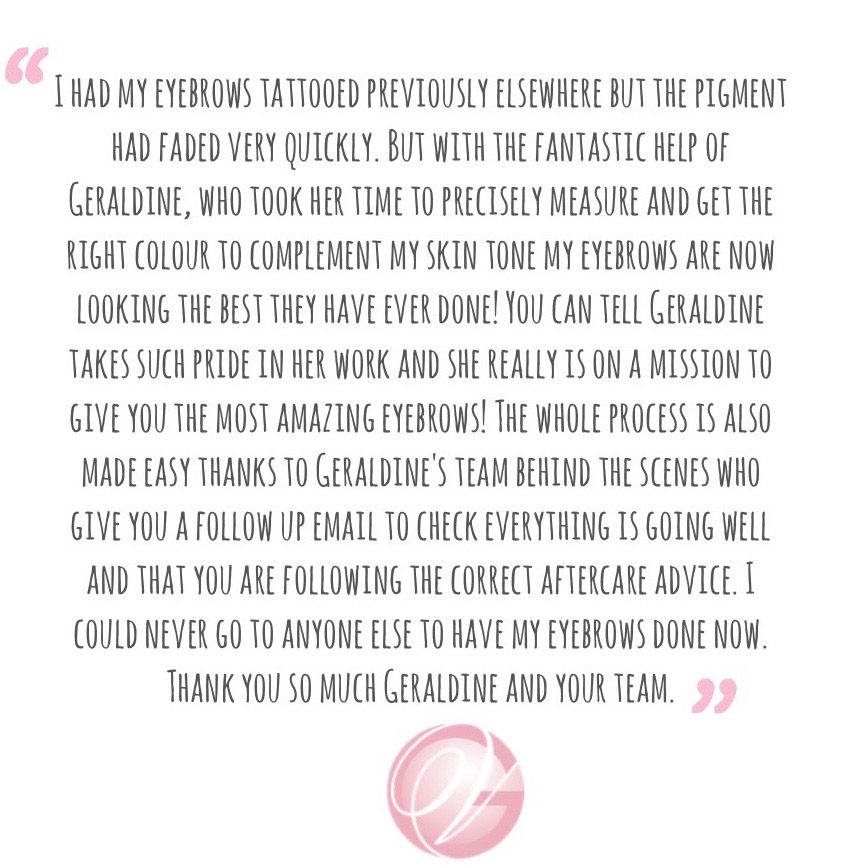 Natalie, below, loves the effects and ease Permanent Make Up has given her following her Unique Design Eyebrow Enhancement procedure. You look beautiful Natalie, thank you for sharing the photographs! I love the positive feedback and that you feel you can now have hassle-free evenings out, or mornings in without worrying about your brows.
Here is what Natalie had to say: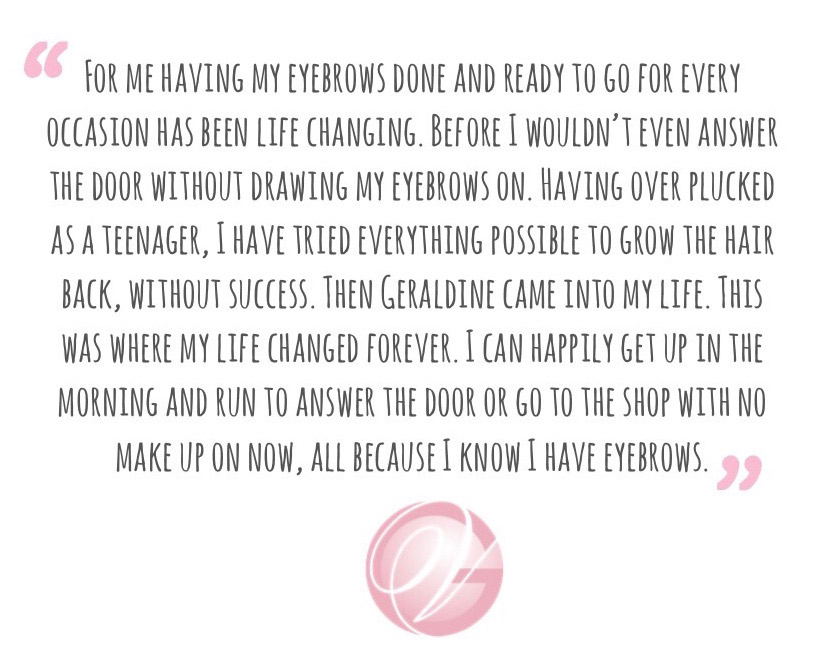 So with Permanent Make Up freeing up time in your schedule the only question is – how on earth do we choose which event and where to go with so many wonderful options? Looking through them I almost feel panicky not knowing which to try first! Here are our favourite ideas for Bonfire night, I hope you have better luck choosing!

Bonfire Night Party at Kensington Roof Gardens
Take Bonfire Night to stylish new heights at the Kensington Roof Garden's annual Firework Spectacular on Saturday 4th November. Add a little extra sparkle to your evening and swap the scarves and woolly gloves for dancing shoes at their award-winning Club. Throughout the evening they're serving up delicious cocktails and BBQ snacks before their dazzling fireworks display takes place within the Spanish Garden at 11.45pm. Head back to the dance floor where the resident DJ's will ensure sparks continue to fly until 2am. click here for more info >
Southwark Fireworks Night
The annual Southwark Park fireworks display draws in 30,000 people each year, making it one of the largest free displays in the city. Set on the southbank of the river, and with plenty of food, drink and entertainment, it's a great place to see your fireworks night in. click here for more info >
Battersea Park Fireworks
Head down to the annual Battersea Park Fireworks celebration and watch the skies over Wandsworth be ignited! The award-winning pyro-technicians, Jubilee Fireworks, are powering up for what promises to be an electrifying 22-minute firework display, set to music inspired by this year's theme "Power". Gates open at 6pm for pre-show entertainment and to grab something tasty from the food and drink stalls. Remember to bring cash as there are no card facilities onsite. The bonfire is lit at 7.30pm and the firework display starts at 8pm. click here for more info >
'We rise by lifting others' – Robert G. Ingersoll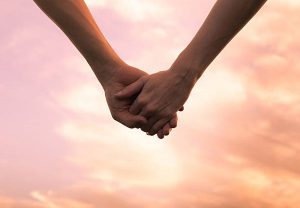 Some of us will be glad the year is drawing to an end but some of us, like me may have wanted to do more, to give more, to experience more. Whether this is true on a personal or professional level, the fact of the matter is; when we realise how quickly time goes by its even more important to embrace our short time on this beautiful planet and make a difference. With World Kindness Day just around the corner, on Monday 13th November, I wanted to look at what I can do to make a difference. The beauty of kindness is that it comes from the heart. It doesn't have to be something big or extraordinary, it's just listening and knowing that in that moment you knew the right thing to do. So I am setting myself a challenge to be more aware of my surroundings and make a conscious effort to see where I can show kindness and make a difference. Will you join me?
I wish you a beautiful November.
Much Love,
GV xx
Ps – Keep an eye on our social media posts, we might have a Black Friday surprise coming your way!