October 2016 Newsletter
And there September goes…almost over in a flash!
Then again, they do say time flies when you are having fun and what a month it has been! I am looking forward to ending it on such a high with everyone at 58 South Molton Street coming together to eat cake and support Macmillan with their Largest Coffee Morning on Friday 30th September. We cannot wait to see you there!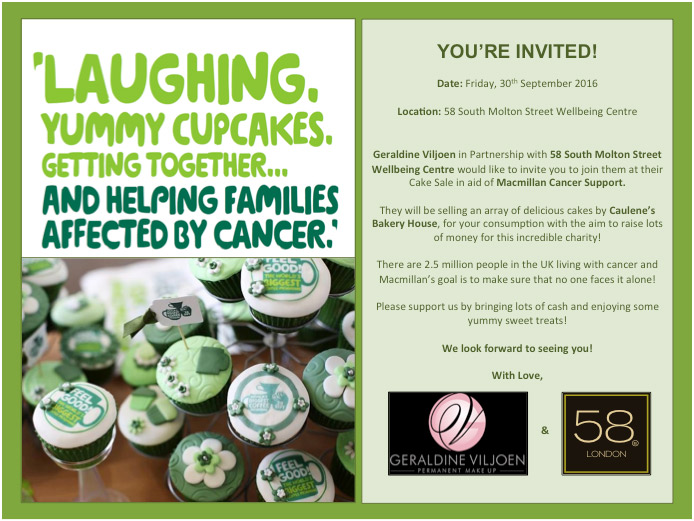 I would like to say a big THANK YOU to everyone who is coming to support us and help us raise money for this worthy cause. To 58's gorgeous Michal and her fantastic reception team, Caulene's Bakery House who are are making all the delicious cakes and to Leah van Zyl my fabulous resident photographer who will be capturing the moments of the day; thank you for supporting us in this great cause. We are very excited for our first event and we know that this is the start of many more to come!
If after reading this, you too are keen to do something fun and selfless with your co-workers or friends, then October is definitely the time to do it, as it is the all-important Breast Cancer Awareness Month!
Breast Cancer is one of the most common Cancers in the UK with a massive 55,000 women in the UK diagnosed with the disease every single year. In my line of work I have been blessed to help treat some of these women who have survived. Although it is not every day that I perform Permanent make up for Medical reasons, I value the opportunity greatly.
I am always struck by how kind, patient and friendly these incredible women are at the toughest time in their lives. Everyone goes through a very different journey when they are diagnosed with cancer and many of us forget that physical changes can have such a huge impact on our self-confidence. Their stories have had a profound impact on me and I feel proud and privileged to be chosen by them to complete their last bit of reconstruction following their cancer battle. These women are truly inspirational and I strive to go above and beyond to give them the best possible result I can.
For those who do not know much about how Permanent Make Up can be used to help women in life after breast cancer, the answer is Areola Re-pigmentation. The Areola is the area immediately surrounding the nipple and in some cases the nipple and/or breast will have to be completely removed during what is known as a mastectomy. Although during breast reconstruction surgery, the surgeons will do their best to reconstruct the shape of the areola and nipple to its original form, the colour of both can be lost as a result.
This is where I come in. By blending a mix of different pigment colours to create a natural areola and nipple result and by tattooing the area, the areola and nipple can look almost exactly as it used to.
Please note that a consultation is advised for all new clients to meet us first so that we can make sure all your questions are answered regarding the treatment and that you are fully aware of what to expect pre and post procedure. We also perform a sensitivity test on the day and go through a detailed medical form to make sure you are suitable to have treatment. We will also use a cosmetic pencil to draw the shape on for you to give you a realistic idea of what can or cannot be achieved.
Once you are happy to proceed, our friendly Clinic and Diary Co-Ordinator, Tiffany, will assist you in making the booking.
For more information, please contact Tiffany directly on 07503 004 932 or email us at enquiries@geraldineviljoen.com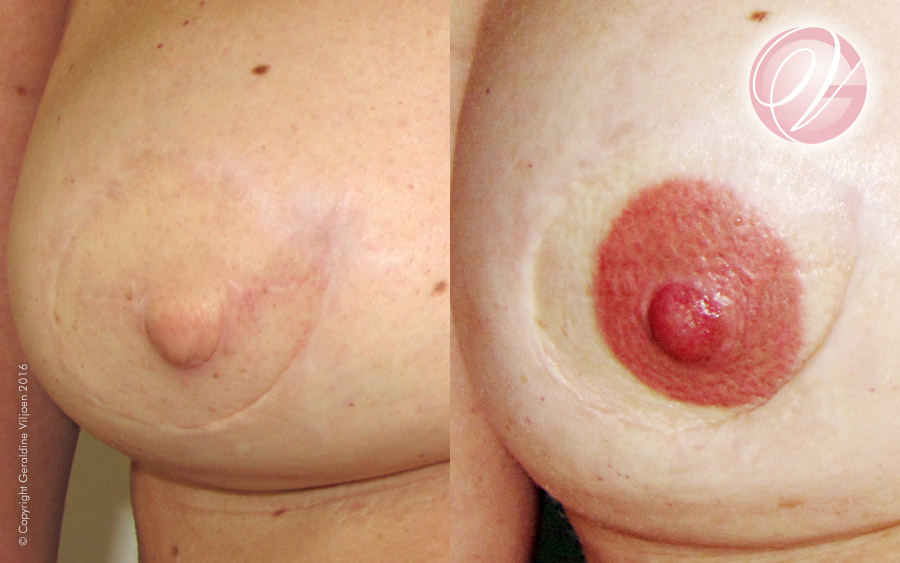 During October and November there are plenty of fundraising ideas and events happening which you can get involved in to help support Breast Cancer Awareness.
I have listed three of my favourites below:
Join the 'Big Pink Jump' team to raise vital funds for breast cancer research! You can take part at any of the 20 skydive locations across the UK.
21st October – Wear it Pink Day
From a simple dress down day at work or a fun night in with friends, as long as you are wearing Pink, anything goes! Wear Pink proudly and receive a fundraising pack to show your support for breast cancer.
This celebrity-hosted glam fashion show is set to be a really fun event with fine food, fashion and first class entertainment, and all in the name of charity.

Don't forget to also tune in for some brilliant live TV and an opportunity to donate on Friday 17th October on Channel 4.
I hope you all have a wonderful month ahead, enjoy Halloween and I look forward to speaking to you in November!
Much Love,
Geraldine Xx