October 2018 Newsletter
Seasons of Change
Bittersweet October, Boobs & Brows…
American writer, Mitchell Burgess put it beautifully: "If winter is slumber and spring is birth, and summer is life, then autumn rounds out to be reflection." As our magnificent summer transitions into autumn we too have the opportunity to transform, renew, rethink and reflect, and this is exactly what I've been doing.
I've always loved my job and although it was the creative side I initially fell in love with, my true job satisfaction and enjoyment comes from the relationships I've made with my clients over the years. The bonus is knowing that something I love doing can make a positive difference in someone's life.
I am in a privileged position to meet and treat clients from all over the world for very different reasons. For some it's purely cosmetic so they can achieve their dream eyebrows, a more defined lash line or fuller looking lips with a hint of colour. For others, Permanent Make Up is more personal, or because of a medical reason, and is the answer to restoring lost eyebrow hair and eyelashes, whether as a result of Trichotillomania, hormone related disorders, Alopecia or cancer. Treatment for these include Eyebrow reconstruction, Eyelash Enhancement, Areola and Nipple Re-Pigmentation as well as Scar Camouflage, all of which are so important to helping a client regain their confidence and continue their recovery process.
October is Breast Cancer Awareness month, and having the privilege of performing procedures for lots of wonderful women who have gone through treatment for cancer, I have always been in awe of how incredibly positive, strong and brave they are. A recent Breast Cancer Care survey found 1 in 4 women (26%) found the end of treatment the hardest part of breast cancer and only 1 in 10 (10%) said they felt positive and ready to move on when they were discharged from hospital treatment. Permanent Make Up and Microblading are wonderful solutions to restoring lost and sparse eyebrow and eyelash hair following chemotherapy. For eyebrows, hair is replicated one by one to give a beautifully soft, ultra-natural result which is a wonderful confidence boost and great time saver when getting ready in the morning. Sparse eyelashes are filled in at the base of the lash line to give an illusion of fuller lashes whereas Areola Reconstruction and Scar Camouflage are performed to replace lost colour and re-create the areola and nipple shape following surgery.
In honour of Breast Cancer Awareness Month, on Friday 19th October we are offering complementary eyebrow treatments to clients who have been affected by cancer. For those of you interested in our Eyebrow Confidence Day please spread the word and let us be part of your (or your loved one's) recovery process.
*** Please note that spaces are limited and subject to availability. All clients are required to have a letter from their oncologists confirming they are aware and happy for them to proceed, and confirming that it is safe to have our eyebrow procedure and that it will not interfere with their cancer recovery treatment.
Be Breast Aware…
A round of applause needs to go to Serena Williams who kicked off Breast Cancer Awareness Month with a music video on her Instagram page as part of the 'I Touch Myself Project 2018', which was created in honour of Chrissy Amphlett who passed away from breast cancer. Serena recorded a version of The Divinyls global hit 'I Touch Myself' to remind women of the importance of early detection. She said; "Yes, this put me out of my comfort zone, but I wanted to do it because it's an issue that affects all women of all colours, all around the world. Early detection is key – it saves so many lives. I just hope this helps to remind women of that." Follow the link here to see her video <here>
According to Breast Cancer Care, a shockingly high number of 5,000 women will develop breast cancer this October.
For anyone concerned about breast cancer and symptoms then do take a look at the diagram below on how to check yourself. There is no set frequency that you should check but aim for at least once a month as advised by The Private Clinic in Harley Street. Professionals are always available to help, so if you are unsure, make an appointment to speak to your doctor.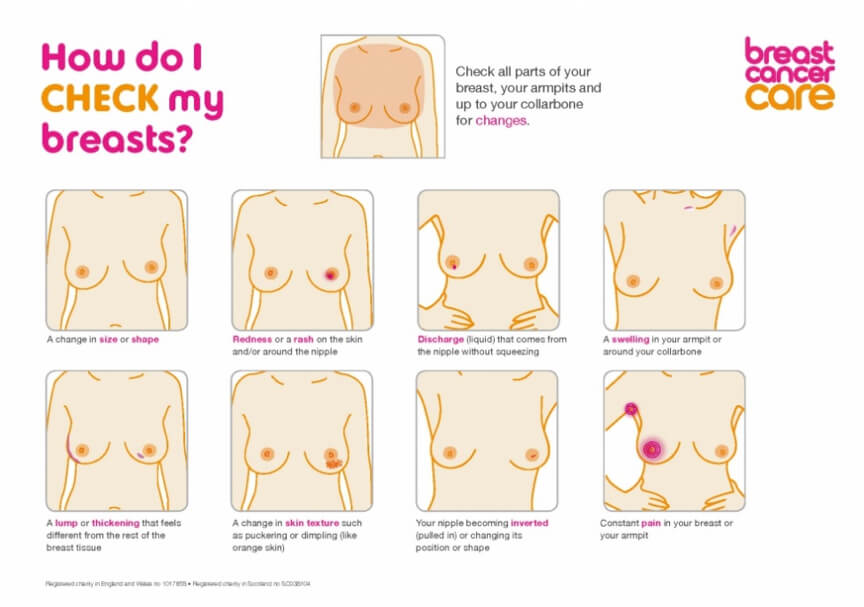 Autumn Fun…
Forget hibernating indoors on a cold cosy autumn evening – although it sounds perfect this time of year – and put on those party shoes to join in all the fun! October is the month that fabulous London transforms into party heaven for the last quarter of the year. There are so many exciting events and festivals and parties to choose from, the main question is how do we decide?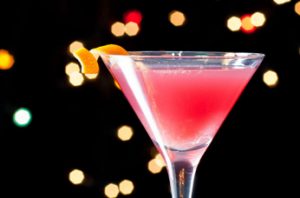 London Cocktail Week:
Let's kick start the month properly with the return of London Cocktail Week from the 1st – 7th October. This fabulous week means there will be £6 signature cocktails available at 300 of London's very best bars and free entry to the biggest ever Cocktail Village in Brick Lane.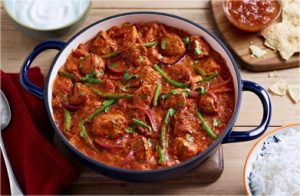 Curry For Change:
After all those delicious drinks you might be feeling hungry and thankfully the fantastic charity, Curry for Change, are offering cooking classes in Old Street to raise money for those who suffer from hunger. On the 7th October join their masterclass where they'll be hosting wonderful chefs from around the world to teach you the secrets of cooking authentic cuisine from Vietnam, Kenya and classic Indian food. All ticket proceeds go to charity. Once the class is over, put your new culinary expertise into practise at your very own Curry for Change night. Host a dinner with a difference and help to change the lives of families who suffer from hunger.
As we fast forward through the month we can't forget what October is really best known for – Halloween of course! For those with little ones no doubt you'll be dressing up as witches and werewolves and walking the streets on the hunt for the biggest bag of sweeties possible!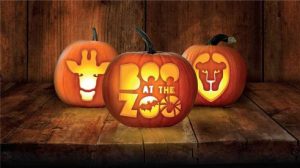 Boo At The Zoo:
Boo at the Zoo is back at the London Zoo promising a week of frightful fun this October half term, enchanting little monsters with an array of fang-tastic activities from the 20th – 31st October. Visitors can carve pumpkins, get up-close with invertebrates and discover the not-so-scary side to the amazing animals close to home in their Super Natural Neighbours challenge.  Creative critters can have some devilish fun with amazing face painting at Hullabazoo. There's a whole range of designs, from pumpkins to spiders!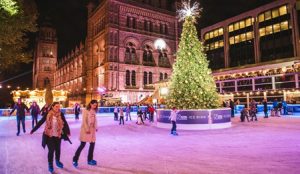 Natural History Museum Ice Rink
I promise you it is October and not December but already London's first ice skating rink of 2018 will be opening at the Natural History Museum on the 25th October all the way until the 6th January. Families go for a group ticket of £39.60.
As the seasons change, may this beautiful time of year bring you and your loved ones lots of special memories to look back on. I look forward to hearing all about all your fun-filled experiences this October.
Much love, and warm wishes,
Geraldine Xx