September 2017 Newsletter
A September to Remember
Although the last few days of August have been beautiful weather-wise here in London, there seem to be a definite crispness in the air in the mornings, and although some of us (a.k.a me, the South African in London), are still clinging to the hope of another 30 degree week, (or weekend, or just one day, pleeeeeaaasse?!!) it's pretty safe to say there are signs that autumn is slowly but surely making its appearance. Nature will soon show us beautiful splashes of warm red, yellow and orange colours which always leave me in awe of how wonderful and clever our amazing world is.
This weather-shift also means we start to re-explore an area of our wardrobes that haven't been touched or looked at for a while, followed by sheer desperation to think of ideas of how to try to liven up all the greys/blacks/browns and navy's that are staring our sun-kissed (or fake tan-kissed) faces in the eye.
Luckily, the beauty of London being its' fabulous London-self, is that there are lots of fashion and beauty events and tips (some being a bit over the top to say the least 😉) to help us with our summer-autumn transition.
The Wavy Eyebrow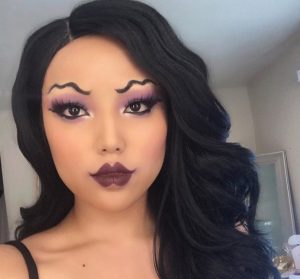 For those of you that are feeling that your eyebrows are looking a bit 'basic' then look no further! Apparently the hottest brow shape right now is squiggly wavy lines…
Beauty influencer Promise Tamang recently posted a picture of herself and her newly fashioned wavy eyebrows on social media and it seems to be a hit! I'm not sure I'll be tattooing any of these on my clients but I was interested to see how she did it.
Promise says she began by using washable PVA Glue (I know, right! 😳) to flatten her hair in one direction before using concealer, setting and pressed powders to hide her brows. She then used a black gel liner mixed with powder to create her new look.
The trend is simply called 'wavy brows' and since first posted in June by the 'melovemealot' rapper and social influencer, it was spread further in the UK by Jessica Brodersen – instabeautybyjess (according Marie Claire magazine). Jessica did the look as a challenge, featuring a thick brow with a wavy tail. Thereafter, as you can imagine, other artists have taken the style up a notch.

London Fashion Week
London will soon be awash with world fashion as we all countdown to next week when it's London Fashion Week again (15th – 19th September).
SS18 may feature sharp tailoring to counter the previous ripped denim trend. And rumours are that the popular millennial pink will be swapped, perhaps for a complicated lilac (seen here recently worn by the Duchess of Cambridge).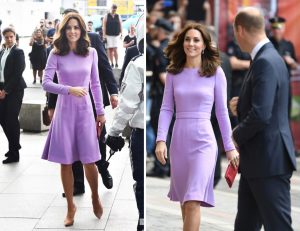 If you'd like to go along but without the price tag maybe try the London Fashion Week Festival which is held from 21st – 24th September (The Store Studios, 180 Strand, WC2R). Tickets start from £20 which gets you into the 180 stores and insider talks about upcoming trends and colour – you might even pick up a bargain at one of the many stands. You can also upgrade to see a catwalk show. Sounds perfect!
And surely, we have much less chance of been 'papped' here than at a main event! 😊
A September to Remember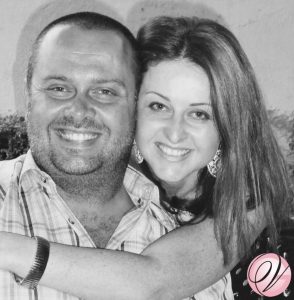 One of the things I have missed most since moving to England is not having my family close by to celebrate special occasions like birthdays with. So, I am sure you can understand my excitement this year as I get to spend the day not just with my beautiful girls and husband, but also with my brother and his fiancé too! They will be visiting us for four glorious days before heading off on their holiday to Greece. Keep an eye on our social media, I will update you all on our fun-filled adventures in London. Let's hope the English weather plays along!
With family in mind, I was recently reminded what the importance and beauty of this closeness we share with the special people in our lives really mean when I saw one of my beautiful clients for her yearly Brow Boost. She was diagnosed with Alopecia a few years ago and therefore came to see me to have her eyebrows recreated and shaped after losing her brow hair. She and her mum always come in together, their bond is so beautiful, and I love how they spend hours researching everything they can to learn more about Alopecia, and even watching make-up tutorials together.
Talking to my clients who have been affected by Alopecia has given me a more meaningful understanding as to what challenges they face, what their fears are, how my treatments can make a difference and how the journey for everyone is so incredibly different in finding their 'new selves'. I feel privileged to be part of this journey and love seeing the difference my treatments make in their lives. Therefore we are offering for the month of September, a discount for anyone affected by Alopecia. Please see below for our September Alopecia Awareness special.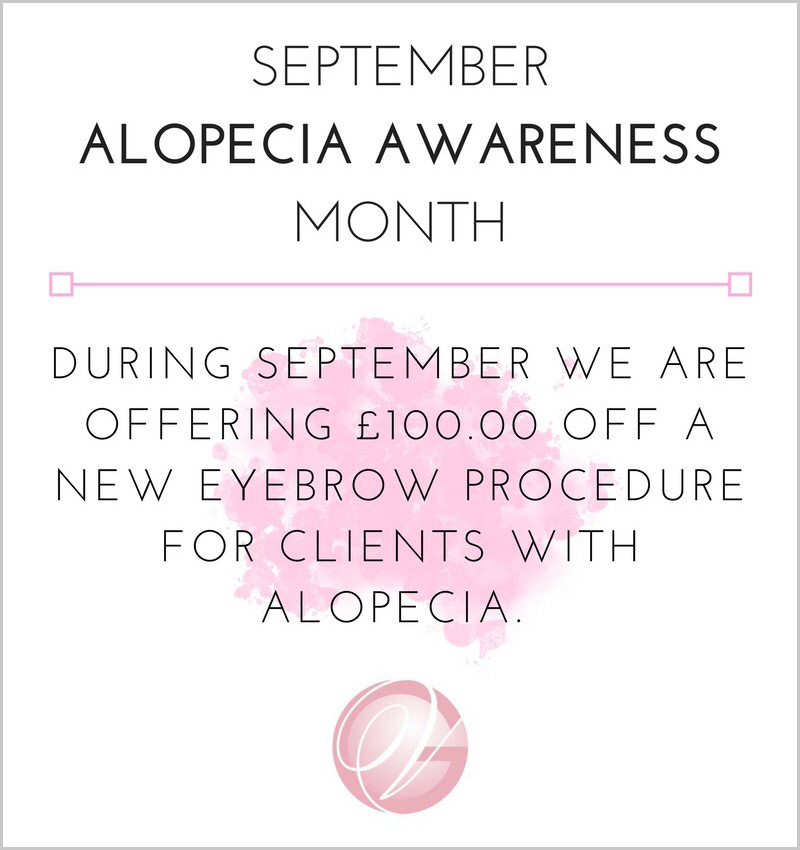 If you have any questions or need any more information regarding our treatments or services, please don't hesitate to call us on
0203 664 8985 or email us on enquiries@geraldineviljoen.com
We wish you a beautiful autumn, may the changing season help us to see all the beauty that surrounds us every day.
Much love, hope to see you soon!
Geraldine Xx