December 2018 Newsletter
Don't Blink 👀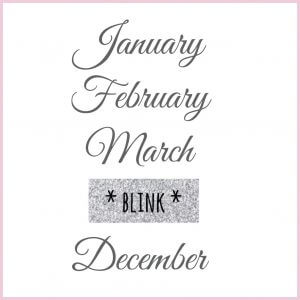 And in just a blink of an eye we're in mid-December and Christmas is just around the corner!
London is yet again decorated with beautiful, sparkling Christmas lights; it truly is a magnificent sight that is sure to convert any old, grumpy Christmas Grinch into a Christmas lover! The spirit of Christmas is echoed in the gorgeous window displays and decorations, inviting shops and restaurants, mulled wine and mince pies and not to forget, yes, even the irritated pedestrians and nonchalant shoppers and visitors from afar (who seem not to know that the left hand side of an escalator is for 'runners' a.k.a mum and dads, especially for this twin mum, sprinting post school run to get to work?!… I guess this confirms I am a Londoner now 😁🙈).
Reflecting on this year has just reminded me again how many wonderful moments 2018 held, both personally and professionally. I adore my job, spending time with so many wonderful ladies and gents, each with their own story to tell and their own reasons for wanting Permanent Make Up or Microblading.
This time of year is particularly busy with bookings because our treatments require a bit of down-time afterwards and most of our clients want their procedures to fully heal before Christmas. We advise, for best results, that our clients avoid getting the treated area wet for at least 7 days post procedure and also to avoid applying makeup over the area. This proves to be a very challenging feat at this time of year with the festive party season upon us, and can be a bit tricky to achieve if you want to dress (or makeup) to impress.
So, as we count down to the last week before Christmas, remember to wear our shiny aftercare cream on your brows and lips with pride, and rest assure that even being without your beloved mascara for the first few days while your eyeliner is still healing, will be so worth it ☺.
December is the perfect month to take some time to reflect, and what better way than to look back month by month to remind us of 2018's highlights and how our yearly theme of 'Restoring Balance' added significance to us and the work we do.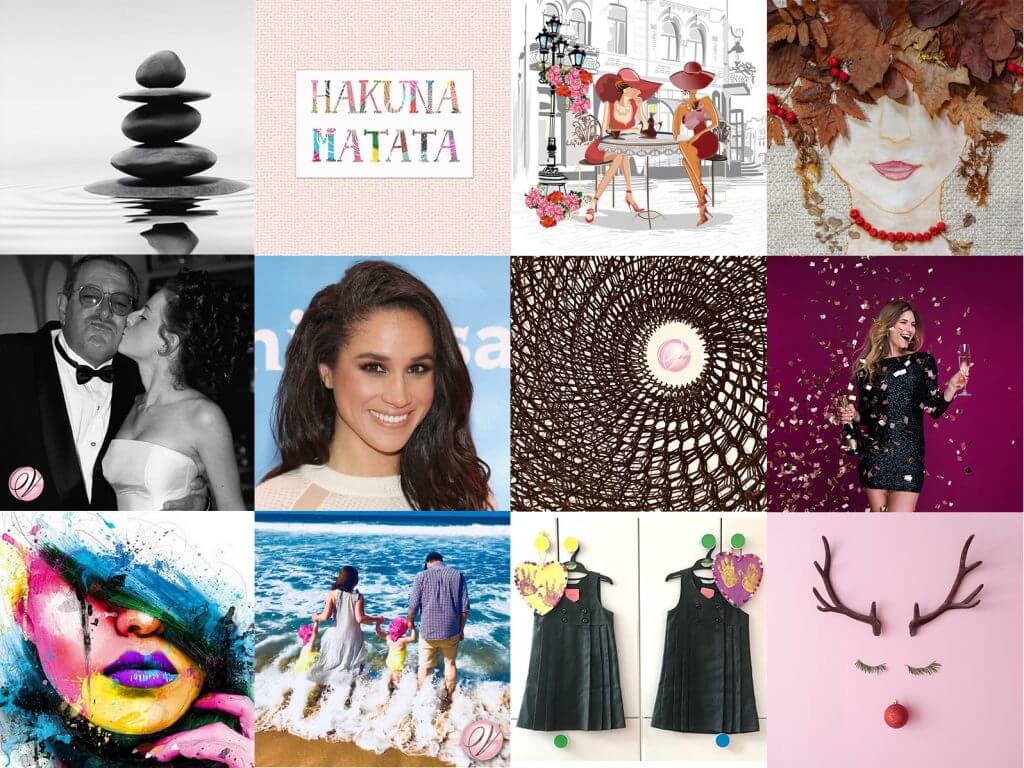 A Year in Review
January was all about restoring balance after the craziness that comes with Christmas and New Year's Eve. We live in a very busy world, both with our personal and professional lives, and throughout 2018 I really wanted to take a step back and restore balance in my life without losing track of who I am.
February is always about love for me! In keeping with our 2018 theme of restoring balance I wanted to pass down the important message of "staying loyal and true to yourself".
March is always a momentous time for me as it's my business' anniversary and this year marked 6 years. We looked back at how my career dreams became a reality and the power of women to mark International Women's Day.
April is Stress Awareness Month and every year I want to share some helpful tips to bust the stress because we all experience it at some stage in our lives. I'm very lucky, that through my work, I can help clients suffering with hair loss caused by stress-related issues.
May was another month of love as millions of us tuned in to watch the royal wedding between Meghan Markle and Prince Harry. It was an exciting month for my family as we travelled to South Africa to spend some much-needed time with our family and friends which was the perfect treat to restore some balance.
June saw the beginning of a magnificent summer. But we also took the time to consider World Environment Day which has been such an important topic this year. Whilst we were in South Africa we spent time on the beach picking up litter but it's an issue we always need to be mindful of.
July we celebrated the half-way point of the year and also World Friendship Day. We looked at how important women are to each other and were delighted to offer a £25 "Thank You" voucher to all the friends who support each other and deserve a treat.
August brings with it World Photography Day and I shared my secret passion with you all. As the summer heatwave continued we also posted our must-have summer essentials including Permanent Make Up so you don't have to worry about your mascara and lipstick melting in the heat.
September marked a landmark occasion in my family's life. It was time for my twins to start school! Any parents can appreciate the highs and lows of emotions you feel at this time, but my daughters are really enjoying their new friends and lessons.
October is Breast Cancer Awareness month. We researched some statistics about this awful disease and how it affects so many people in the UK alone. With the help of Permanent Make Up and Microblading I'm very proud that we can offer wonderful solutions to restoring lost eyebrow and eyelash hair as well as Areola Reconstruction and Scar Camouflage to replace lost colour and re-create the areola and nipple shape following surgery.
November marks the start of the party season so we investigated the huge growth in online makeup tutorials and how they help so many people around the world create the perfect party-ready look. We also shared some fun, festive events that were happening in London, as well as marking the 100th anniversary of Remembrance Day.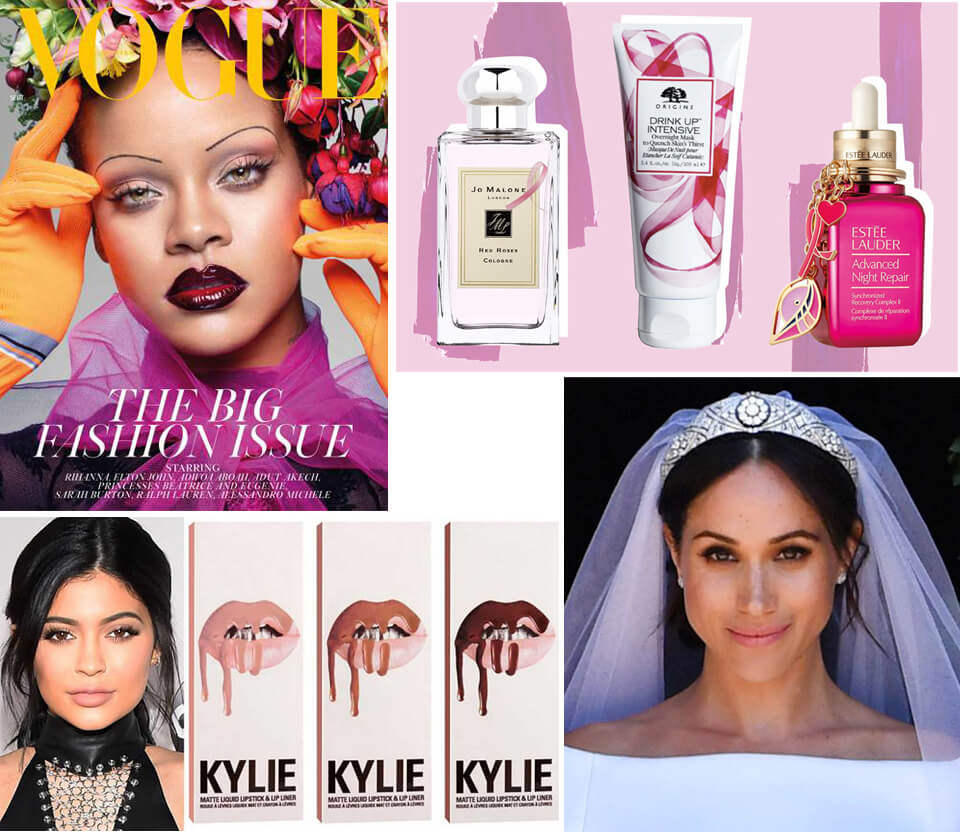 Beauty Trends
It's been a ground-breaking 2018 for the beauty industry, here are our very own personal 'Best Beauty Moments of 2018':
Rihanna's eyebrow shock on VOGUE cover
Kylie Jenner's Lip Kits Company was valued at over $900m in 2018
Beauty companies get behind Breast Cancer Awareness Month including; Jo Malone/Ciate/Becca Cosmetics
Halloween makeup takes over Instagram with 4.4million tags on Instagram
Meghan Markle has a princess wedding with her flawlessly radiant skin and ultra-natural makeup.
And what we believe were the 'Best Beauty Launches of 2018':
Charlotte Tilbury Magic Away Concealer
Kat Von D Lash Liner
Volume Infusion Mascara from Max Factor
Microblade Effect Eyebrow Pencil from Rodial
All I want for Christmas… 🎄
As we decorate our trees, and start ticking off our gift- and shopping lists, there is something about this time of year that always tugs a little bit extra on our heart strings, like a message from within reminding us, and encouraging us, to not just self reflect but also to remember our loved ones, special friends and the ones who left those unforgettable footprints in our lives.
My little family and I decorate our Christmas tree each year with baubles that have photos of all our family and friends. I adore our tradition and by doing so love that it makes us feel 'together' at least once a year. It is also the perfect opportunity to tell our daughters about everyone, reminding them where they live and most importantly that they have so many people all over the world who love them very much.
I wish you all a very special festive season filled with love and laughter, and that you get to spend it with the ones your heart longs to be with most. And when reflecting about all your blessings of 2018, that 2019 will be twice as wonderful.
Merry Christmas, and the happiest of 2019 to you all.
Until the New Year, with lots of love,
Geraldine Xx